Forico to use Trimble's Log Inventory and Management System (LIMS)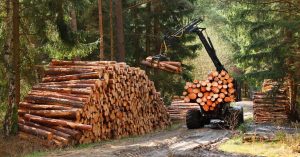 Tasmania's largest plantation forestry manager, Forico, will implement Trimble's Log Inventory and Management System (LIMS) to help manage 174,349 hectares of forests.
LIMS is a software platform that provides management control over all phases of timberland, woodland, yard and mill operations. Forico will use LIMS to help speed contractor payments and load ticket reconciliation, increase timber security, and gain real-time visibility into supply chain interactions.
Forico's recently released Natural Capital Report valued its forest ecosystem at $3.39 billion and the value of sequestered carbon at more than $8.6 billion. The report, a first of its kind in Australia, set a benchmark for business and industry in environmental stewardship and corporate sustainability reporting.
"Trimble and Forico share core values, including a recognition of the value of sustainability of our natural resources, and we are pleased to support Forica's efforts to be good stewards of its forest operations," said Dan Turkington, Business Development Manager, Trimble Forestry, based in New Zealand.
About Forico:
Forico is Tasmania's largest private forestry management company. For more information, visit https://forico.com.au/about
About Trimble's Forestry Division
Trimble's Forestry Division offers SaaS and enterprise software to improve the productivity and sustainability of the world's most recognized integrated forest product companies, forest managers, conservation organizations, government departments, finished product manufacturers, and the partners that connect the global forest supply chain. Trimble's Connected Forest™ solutions manage the full raw materials lifecycle of planning, planting, growing, harvesting, transporting, and processing. For more information, visit: forestry.trimble.com.
About Trimble
Trimble is transforming the way the world works by delivering products and services that connect the physical and digital worlds. Core technologies in positioning, modeling, connectivity, and data analytics enable customers to improve productivity, quality, safety, and sustainability. From purpose-built products to enterprise lifecycle solutions, Trimble software, hardware, and services are transforming industries such as agriculture, construction, geospatial and transportation, and logistics. For more information about Trimble (NASDAQ: TRMB), visit: www.trimble.com.