Alberta Newsprint Company replaces paper load ticket books with CFX, a Trimble Connected Forest™ Product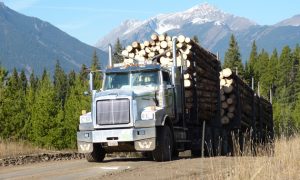 Alberta Newsprint Company (ANC) is replacing its paper load ticket process with CFX, a Trimble Connected Forest product.
Alberta Newsprint faced two persistent challenges with its paper-based process:  collecting paper ticket books from its contractors was time-consuming, and reconciling the errors that inevitably resulted from manual entry added cost.  ANC's deployment of a digital solution will help to streamline the process of collecting and reconciling load tickets.
Using CFX instead of paper load books results in greater accuracy of field-collected data, and provides visibility into supply chain transactions for both the contracting community and the forest product company. ANC has also been able to leverage CFX to expedite mandatory COVID-19 checks at their scale.
To learn more about Trimble's Connected Forest solutions, email forestrysales@trimble.com or call Trimble Forestry sales at 888-443-4241 in North America. Trimble Forestry has sales offices around the world. To find a local contact number outside of North America, visit: forestry.trimble.com/contact-us.
About Alberta Newsprint Company
Alberta's first and only paper mill, Alberta Newsprint Company (ANC), is a joint venture of The Stern Group (Whitecourt Newsprint Company Limited Partnership) and West Fraser Timber Co. Ltd. With a strong commitment to excellence shared by every member of the team, ANC supplies companies worldwide with high quality, cost-effective and socially responsible newsprint.
About Trimble's Forestry Division
Trimble's Forestry Division offers SaaS and enterprise software to improve the productivity and sustainability of the world's most recognized integrated forest product companies, forest managers, conservation organizations, government departments, finished product manufacturers, and the partners that connect the global forest supply chain. Trimble's Connected Forest™ solutions manage the full raw materials' lifecycle of planning, planting, growing, harvesting, transporting, and processing. For more information, visit: forestry.trimble.com.
About Trimble
Trimble is an industrial technology company transforming the way the world works by delivering solutions that enable our customers to thrive. Core technologies in positioning, modeling, connectivity and data analytics connect the digital and physical worlds to improve productivity, quality, safety, transparency and sustainability. From purpose-built products to enterprise lifecycle solutions, Trimble is transforming industries such as agriculture, construction, geospatial and transportation. For more information about Trimble (NASDAQ:TRMB), visit: www.trimble.com.